General overview
July 16th/17th: I fly to England, and stay in a hostel near Heathrow airport.
July 18th: Clare and I meet at Heathrow and fly to Amman Jordan. A friend of her family will meet us there and we will stay with them for the night.
July 19th: We meet up with our tour group in Amman in the evening and stay at a hotel in Amman
July 20th: getting to Petra
Carved from rose-coloured rock, the ancient city of Petra is a truly spectacular sight.
We travel via minibus to Mt. Nebo to see the Dead Sea, and Israel (if it is clear), then we'll go to the Dead Sea--the lowest point on Earth and second saltiest lake, and swim/float at a private beach and a roll in the mud. Then we go to the castle of Kerak to tour the ruins, then on to Petra--one of the new Seven Wonders of the world
We stay the night of the 20th and 21st at a hotel in Wadi Musa.
July 21st: Full day in Petra
July 22nd: 2 hour drive to Wadi Rum. We explore the desert in a 4 hour jeep safari, eat food cooked in an earthen oven, and sleep in a simple Bedouin desert camp under the stars, or a camel hair tent.
July 23rd: Afternoon ferry ride (4 hours) to cross the gulf of Aqaba and arrive in Egypt at Nuweiba. We stay at Sawa Camp near the coast of the Red Sea in beach huts made from local palm trees. Snorkeling and beach activities for these 2 days
July 24th: Sawa Camp
July 25th: Travel in the morning to Mt. Sinai and St. Katherine's Monastery (where the burning bush was). We'll climb the mountain by evening or early morning. It takes 3 hours to climb. We stay in a hotel tonight.
July 26th: Early morning private minibus ride to Cairo (9 hours), we stay in a hotel in Cairo, and are left to our own devices after that.
July 27th: Tour ends. We'll stay in Cairo and see the sights for a few days
July 28th: Cairo
July 29th: Cairo, night train to Aswan
July 30th: Aswan, arrive in the morning, arrange our boat tour and see the sights. We're booked into the Hathor Hotel
July 31st: Aswan, possible trip to High Dam
August 1st: Boat cruise on the Nile to Luxor
August 2nd: Cruisin'
August 3rd: Cruisin'
August 4th: Arrive at Luxor and explore. Stay at New Pola Hotel
August 5th: Luxor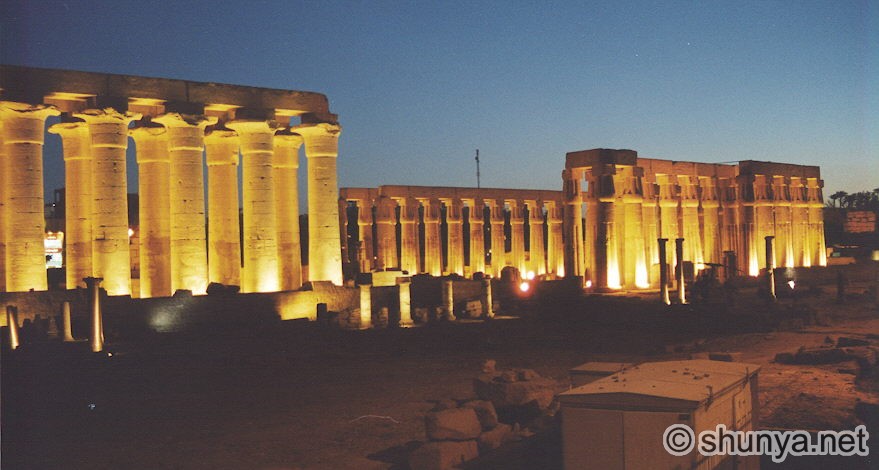 August 6th: Luxor
August 7th: Luxor and night train to Cairo
August 8th: Back to Cairo and stay at an airport hotel
August 9th: Depart Cairo in the morning, arrive in London where I'll say farewell to Clare, and stay in hostels
August 10th: Tour London, night in a hostel
August 11th: I fly back to Canada